Sarpatta Parambarai Trailer Breakdown
Pa. Ranjtih's Sarpatta Parambarai will release on Amazon Prime Video on 22nd July 2021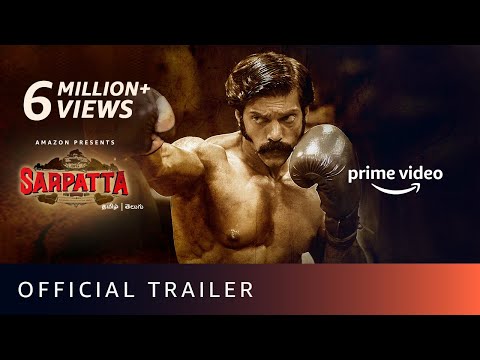 Sarpatta Parambarai is a Tamil sports drama set to release on Amazon Prime Video on 22nd July 2021. The film is about the boxing culture in the 1990s in North Madras.
The trailer shows a face-off between two clans who were taught boxing by the Britishers. The two clans were united at that time. There is a constant tussle between the two clans for glory inside the boxing ring. The protagonist takes it upon himself to restore the Sarpatta clan's legacy. The upbeat background music of the trailer keeps up the vibe of the film. The trailer has received positive reactions from the audience.
Actor Arya who plays the protagonist looks all bulked up and in great shape, for the role he is playing. He had to work out extensively to portray a boxer on screen. Directed by Pa. Ranjith, Sarpatta Parambarai stars Kalaiyarasan, Pasupathi, Dushara, John Kokken, Santhosh Pratap and Shabeer Kallarakkal along with Arya.