Hungama 2 Trailer Breakdown
Disney Plus Hotstar VIP dropped the trailer of Hungama 2 set to release on the streaming platform on 23rd july 2021.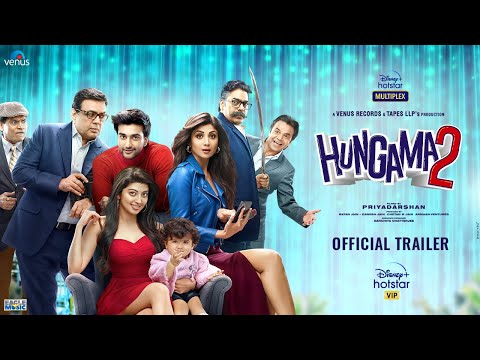 Hungama 2 is set to release on 23rd July 2021 on DisneyPlus Hotstar VIP. Priyadarshan is back with a sequel to his laugh riot Hungama (2003) wherein mistaken identities create a ruckus.
Hungama (2003) starred Paresh Rawal, Akshaye Khanna, Aftab Shivdasani and Rimi Sen in lead roles. In Hungama 2, Paresh Rawal reprises his role as Radheshyam Tiwari.
A woman claims that a man is the father of her child. In order to find out the truth, he joins hands with another woman whose husband suspects her to be unfaithful. This looks like another comedy of errors, except the comedy in Hungama 2 is quite distasteful.
Hungama 2 stars Meezan Jaaferi, Pranitha, Shilpa Shetty, Rajpal Yadav and Johny Lever in addition to Paresh Rawal. Hungama 2 marks Shilpa Shetty's acting comeback after a long period of staying away from films.
Confusion, double-meaning jokes and glamorous songs summarise the trailer of Hungama 2. The movie also has a remix of the 90s song "Churake Dil Mera Goriya Chali" from Main Khiladi Tu Anari which was picturised on Shilpa Shetty and Akshaye Khanna. In Hungama 2, Shilpa Shetty again dances to her hit song.
Netizens started making comparisons of Hungama 2 with the original Hungama as soon as the trailer was dropped. According to the comments on the trailer, the minor role of Rajpal Yadav is the only saving grace of the movie.