Hostel Daze Season 2 Trailer Breakdown
The second season of Hostel Daze will be released on 23rd July 2021 on Amazon Prime Video.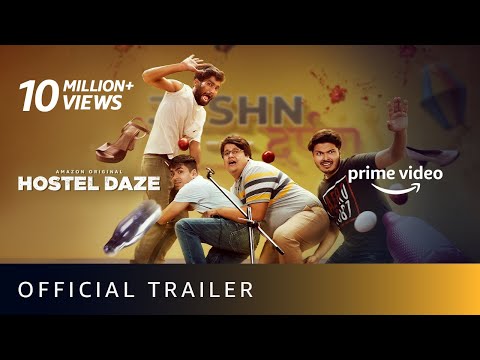 Hostel Daze is back with another season and will be released on 23rd July 2021 on Amazon Prime Video. The freshies are now seniors and a lot of drama and entertainment awaits to unfold in the lives of Ankit, Jhantoo, Chirag and Jaat.
The lively trailer starts with Jhantoo's comparison of a hostel with a girlfriend while Jaat enters Ankit's room only to find Ankit and Chirag holding hands and looking into each other's eyes. This sets the fun tone of the trailer right from the start. Ankit is finally dating his crush, Akanksha and Jaat also has something going on with a girl. Like many other things, Chirag's sexual humour delivered in an innocent way still persists. Among many problematic aspects of the show like the hypersexualization of women, this season again shows the main leads ragging new students in a normalised manner. However, they land into trouble when a complaint is filed against them. Of course, the trailer is incomplete without the iconic dialogue "Iss saal ka batch hi bekaar aaya hai".
Summing up, the trailer is funny and problematic at the same time. However, for all the college students who are missing out on the best time of their lives, Hostel Daze 2 is going to bring back the yearning for the pre-pandemic times.
Directed by Amir Musanna and Sangram Naiksatam, the TVF series stars Adarsh Gourav, Luv Vispute, Shubham Gaur, Nikhil Vijay, Ahsaas Channa and Ayushi Gupta.